12 Days of Pre-Christmas: Gift Six For Your Writer Friend
Writers don't always subscribe to the most ergonomic work choices, and even when they do, their hands get tired. There's an ache that can be felt at the base where the thumb meets the palm, that only a good massage can help. But who has time for daily massage? Instead here is a gift that is healing and preventative…
Chinese Medicine Balls
What they are:
Also known as Boading balls 保定健身球, after the city where they are made, you will recognize these as Chinese medicine balls. They are small enough to hold in one hand. Originally made from iron, most are steel these days, and I've seen some that are solid jade. The steel balls contain a chime that sounds when the inner ball strikes the outer sphere of the ball.
Why they're great:
Used for exercise, mediation, and to reduce stress – all things writers need help with – medicine balls date back to the Ming Dynasty, around 1368, maybe earlier. Using the balls helps to relieve stress, increase circulation, and is said to build muscle in hands and fingers. You don't need to insure your hands, just exercise them regularly!
The technology of the balls is that they stimulate acupuncture points around the hand and that in addition to better muscles and reduced stress, they can also improve brain function!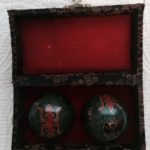 You can buy simple steel ones or some that might have the dragon and/or the phoenix on them, or flowers and Chinese words. The bonus is, they come in their own nice box! So you can wrap or just add ribbon and a card.
Include a note in the card like, "This year, I got you something you never want to lose." Or, "Thought you could use an extra pair."
What to look for:
Generally they come in a medium size. Think about the size of the person's hand and go from there. It's better to start small and work your way up, but for a big man, I'd go for the larger size. Medium for women, small for youths. Make sure any pair has the chimes. Sound is part of the meditative process.
What is Costs:
Approximately $5.00 – $16.00 It's a deal!
Visit tomorrow for the 7th day of Pre-Christmas.
Don't Forget To Enter My Contest!
One person will win a $100 USD Amazon Gift Card to replenish their wallet after the holidays! Subscribe to my mailing list here, and follow me on Twitter. If you are already subscribed, just follow on Twitter by December 28, 2015. Must be discoverable on both platforms to qualify.
Winner announced December 30, 2015.
Until tomorrow!
Tricia