Glisten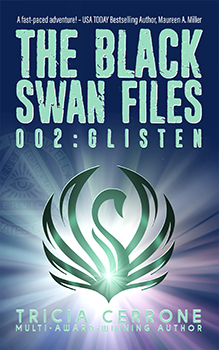 The Black Swan Files Book 002
The Award-Winning Series is back!
She is known as Project Sunday to her former government captors—a human enhanced teen transformed by a black swan event. She was their most valuable asset—until she escaped. And one thing is certain, Jocelyn has no intention of ever going back.
Graeme knew Jocelyn was special the first time he met her…then leaping from his Porsche to take down a drone pretty much sealed the deal. Now she's back and trouble is not far behind. But how did you help someone who wouldn't tell you the truth, was constantly on the move, and had a best friend that you wanted to punch in the face? As the stakes get higher and his own family is at risk, Graeme has to decide one thing…whose side is he on?
Finally in New York, Jocelyn is eager to reach her brother and sister, but nothing works out as she hoped. She has no way to prove who she is, there's a serial killer who wants her dead, her former handler is now controlled by her nemesis, and the mastermind of it all is toying with her. Amidst everything, she is trying to survive in the "real world", help her family in secret, and navigate her first shot at romance.
Thankfully, she has friends with skills. It will take all of them to stop the government's latest plot. But at what cost?
Other Books in the The Black Swan Files Series
Uma Shankari – Books.Bags.Burgers.
"Fast-paced, exciting and emotional! Glisten is the perfect sequel to Glimmer and will have readers rooting for the brilliantly written characters."
Sarah Palmer – Confessions of a Lit Addict
"Glisten had me laughing out loud and on the verge of tears. It is a hard novel to put down!"
Maureen A. Miller, USA TODAY Bestselling Author
"This fast-paced adventure features a uniquely gifted young woman whose power is enhanced by the bonds of friendship."
Lynne Marshall, Author
"Ms. Cerrone packs action, adventure, and intrigue into the second installment of The Black Swan Files, Glisten – balanced by friends, family, and first love – a winning combination."
Glisten, Winner, Wisconsin RWA Write Touch Readers' Award for Best Young Adult Book, 2017
Glisten, Winner, Pinnacle Book Achievement Award for Young Adult Fiction, 2017
Glisten, Silver Medal, eLit Awards for Best Young Adult Book, 2017 
Glisten, 2nd Place, YARWA Athena Awards, 2017
Glisten, 2nd Place, Book Buyer's Best Award for Young Adult, 2017
Glisten, Finalist, Daphne du Maurier Award for Excellence in Mystery/Suspense, 2017
Glisten, Finalist, Maggie Award for Excellence for Best Young Adult Romance, 2017