Siren's Secret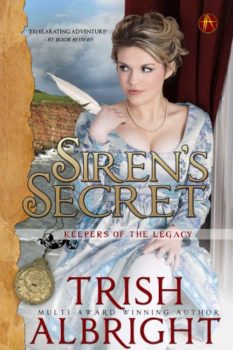 Keepers of the Legacy Book 2
September 12, 2012
Paperback, e-Book
Lady Olivia Yates had an accomplished mind, a scholarly vocabulary, and thanks to her father, a fascination and expertise in all things Egyptian. The one thing she didn't have was any experience outside the walls of London. Then her father is kidnapped, a colleague is murdered, and Olivia finds herself in the arms of the one man who can help her save the day.
Captain Samuel Stafford was instantly intrigued by the silver-eyed, lady professor. She was driven, clever, and surprisingly persuasive — otherwise he'd never be in this kind of danger! From fighting off pirates to hunting for treasure, Samuel realizes there is no place he wouldn't go to win the heart of one remarkable woman, and finally discover the Siren's Secret.
Four Stars from Romantic Times Book Reviews.
Originally published May 2009 in mass market paperback by Leisure Historial Romance and September 2012 in eBook by Stone Media.
Other Books in the Keepers of the Legacy Series
Romantic Times BOOKreviews
"Albright cements her place as an adventure/romance writer with her second roller-coaster ride of a story when an American shipping magnate and a British Egyptologist match wits and wiles in a race to decode an ancient prophecy. The fun begins on page one and continues to the very satisfying end."
Joyce Anne McLaughlin – Publishers Weekly's Beyond Her Book Blog
"For a summertime book at the beach, what could be better than a delightful, romantic, swashbuckling escapade…This fast-paced, exciting high seas adventure is sure to keep you as riveted as it did me."
Mrs. Giggles Reviews
"This is a campy, fun, rollicking romantic adventure that works very well, making me laugh and whoop in delight very often during my reading of this book. Seriously, it was a pretty dull afternoon when I began reading this book, but after a while, it felt as if the day was definitely picking up with every turn of the page in this book…there is no denying that Siren's Secret makes me a very happy reader because of its effervescent humor, non-stop action, and two adorable main characters who love hard, play hard, and cheer me up to no end. It's too much fun reading this story. Trish Albright, huh? I'll remember that name."