Siren's Song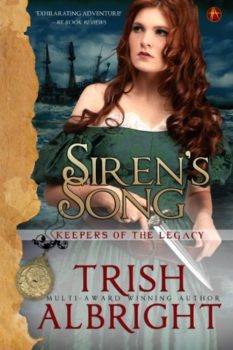 Keepers of the Legacy Book 1
July 8, 2012
Paperback, e-Book
Knife-wielding, shipping heiress Alexandra Stafford, would rather face down a crew of bloodthirsty pirates, than face off against the prim and proper English gentry. Haunted by a powerful prophecy and stalked by an obsessed killer, Alex is a woman on a mission, her only focus to protect her family and finally stop the vicious slave-trader who murdered her parents years ago…that is until the biggest obstacle of her life walks in and she must choose between exacting her revenge or reaching out to a love she never expected.
The duke of Worthington returned to England for a life of peace and quiet, never expecting that the woman of his dreams would lead him on the adventure of a lifetime. When danger escalates, Worthington must prove again and again that there is nothing he won't do for the love of one captivating woman, and risks it all to surrender to the Siren's Song.
Four Stars from Romantic Times Book Reviews.
Originally published July 2008 in mass market paperback by Leisure Historial Romance and July 2012 in eBook by Stone Media.
Other Books in the Keepers of the Legacy Series
Romantic Times BOOKreviews
"Albright debuts with an adventure romance that takes the high seas and readers into the realm of pirates, prophecies and passion. The plot twists, paranormal overtones, well-crafted characters and exhilarating adventures make for a whirlwind, nonstop read."
Romance Reviews Today
"There is never a dull moment in this action-filled novel. Although it is Ms. Albright's first book, she writes like a veteran. Don't miss Siren's Song for an exciting reading experience."
Joyce Anne McLaughlin – Publishers Weekly's Beyond Her Book Blog
"For a summertime book at the beach, what could be better than a delightful, romantic, swashbuckling escapade…This fast-paced, exciting high seas adventure is sure to keep you as riveted as it did me."
Mrs. Giggles Reviews
Siren's Song is an unusual historical romance. It has a feisty kick-ass heroine and a rocking fast-paced story full of adventures at high seas. Okay, such a romance isn't that unusual, but how about the fact that the heroine is allowed to take no prisoners, be in the front line in the assault on the bad guy, and is allowed to have blood on her hands at the end of the day? Now we're talking, huh? If you are a fan of exciting action-paced romantic stories (think Marsha Canham's books), you may want to take a note of this book. At least skim a few chapters at the bookstore – you may just experience the same thrilling kind of serendipity as I did.
Siren's Song, Winner, Write Touch Readers Award for Best Historical Romance, 2009
Siren's Song, Winner, Beacon Award for Best Historical, 2009.
Siren's Song, Finalist in the Award of Excellence in Romance, 2009
Siren's Song, originally titled The Captain's Ring, Finalist, RWA Golden Heart Award, 2008